Donington track day
Fabulous day's driving. More engine problems. Pictures by Simon Prickett.
I did a track day at Donington on Saturday. Fortunately my friend Simon also went in his Elise, and he's already written it up, complete with pictures.
I bought some thermal underwear for the early-morning drive up since my Blackbird-owning friend Ian said he had mild hypothermia after his treck up a couple of weeks back. So I looked slightly larger than normal with five layers on my top half and three on the bottom, but it did the job, and I arrived toasty warm.
My car performed well. The Radical blew everything away (the speed through the corners was just phenomenal). The Porsches were all much faster on the straight, but I didn't give that much away over a whole lap (well all right, the Ruf soon created a bit of space). There was another Caterham that was quite an even fight (less power, I think, but stickier tyres) but apart from those my car held its own. I've got new Avon CR500 tyres on it (haven't had time to write anything up yet), and they performed very well - not as sticky as A032Rs, but good all the same, and a lovely feel. Actually there weren't many other cars there apart from those - Donington was like a ghost town.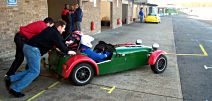 My starting problem came back with a vengeance. I got a couple of pushes in the pit lane, and also had to threaten the car with my emergency jump lead before it would start in the petrol station.
But the big problem saved itself for when I got home... I thought the engine didn't sound right during the drive back, but I had earplugs in and so couldn't really tell. When I came to start it on Monday there was a knocking noise after the oil pressure had built up. Nothing like any noise I'd heard before and definitely not tappetty. I've now stopped driving it, and the consensus from friends all over is that there's a problem with the bottom end, probably the big-end or maybe a cracked piston. I now need to plan what to do about it... First thing is try to talk to DVA in person (he's already offered some advice via the Sevens list).
Engine saga: opportunity, depression, result!
---
This page is http://www.strangely.org/diary/200311/donington.html. It was first published on Tuesday 4 November, 2003 and last updated on Friday 20 February, 2004.