Imprints for posterity
It doesn't look like Play-Doh will be William's favourite toy.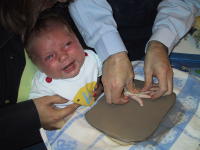 We took William to have some
Imprints
done on Saturday. These are hand and foot prints in clay, nicely coloured and fired, mounted in a plain box frame. We had one done for Thomas when he was two months old, and it's an unusual momento to have hanging on the wall. Thomas screamed the whole time he was having his little digits pushed into the soft clay; his brother was no different. Still, the imprints were good and should look great when we get the finished article back in a couple of weeks.
---
This page is http://www.strangely.org/diary/200207/Imprintsforposterity.html. It was first published on Monday 8 July, 2002 and last updated on Monday 8 July, 2002.