December 2000 to February 2001 ramblings
Life begins at 30, AP-22 vs. G-Tech/Pro, big lens for Digital Ixus, my noisy car, Seven Club meeting reports, Xenon bulbs, new gearknob, Wacom Graphire, big brakes.
My car is past this stage now, but if I ever get it resprayed, I will consider using
Armourfend
. The full kit looks like overkill, but the protectors for the rear arches and the bonnet where it gets bashed by the sidescreens would be worthwhile.
Tuesday, 20th February 2001. Link to this ramble.
I believe I have just converted another soul to the way of the true sportscar. I took one of my younger colleagues out for a spin. He's got a Max Power Escort (with 200+ turboed BHP), and thought he knew what quick meant. "There's more to going fast than straight-line speed" was the mantra before we got in the car. After the first quick corner we took he was babbling something like "awesome", so I decided to take the long, very twisty, route back to work. I think he was impressed; not sure because he didn't really talk a lot. He just walked around the car, wondering how those titchy 185 tyres could hold the car to the road that well. He asked to see the engine, because he couldn't believe that a little Rover 1.6 could make a car go that quick. Then he asked me how much one would cost...
Mission accomplished.
Monday, 19th February 2001. Link to this ramble.
We're trying to move house at the moment, and I'm exploring options for fast internet access when we do. BT don't do ADSL at that location, and as far as I can tell, there are no cable companies which can provide cable modems in the area. Then I remembered about
Tele2
. They provide fast internet access via a fixed wireless installation. I'd looked at them before, but as a home user I was put off by their high-ish cost, and the fact that they put a limit on the amount of data you're allowed to transfer in any particular month. They're now doing a service they call Wireless DSL at Home, which gives you always-on internet access, at up to 150 kbps, with unlimited traffic, for £9.99 a month! And we're in the coverage area now! But the new house isn't :-( I guess I'll have to stick with a modem for a while longer...
Monday, 5th February 2001. Link to this ramble.
The
Haggis Hunt
now has its own web site. My
last attempt
at getting to Scotland wasn't very successful, so I can't wait for the trip. I plan to put some pages together after the event, but I'll try not to duplicate the official site.
Thursday, 1st February 2001. Link to this ramble.
I watched
my Seven
tick over 30,000 miles on the way in to work this morning. This makes it by far the most reliable Seven I've owned, although it has had its problems: a clutch cable; throttle cable; stone rash on the rear wings; a chunk out of a wheel; scuffing on the bonnet from the sidescreens (everyone gets that, right?);
replacement windscreen
and of course, a whole
new front end
(which gave the opportunity to fit an ali radiator and wide track front suspension).
Thursday, 1st February 2001. Link to this ramble.
Someone asked me how I thought the
AP-22
compared with the
G-Tech/Pro
. I'd definitely go for the AP22. It's a lot easier to use, which helps the quest for accurate results. It also allows you to enter figures to compensate for the car squatting under acceleration and cornering, and allows you to enter the car's drag and rolling resistance. All the G-Tech lets you configure is the car's weight (which the AP-22 also offers). Also, the guy who designed it is active on the Sevens mailing list, and the support I've had from him has been excellent. The AP-22 is also a lot easier to mount in a Seven (I always had problems with the cable coming out of the back of the G-Tech, and it needs to be plugged into a cigar lighter socket, which I don't have, etc.)
The G-Tech was fun, but I think it's been superceded now by the AP-22 (or the cheaper AC-22).
Wednesday, 31st January 2001. Link to this ramble.
CKC Power
sell a
28mm lens adapter
for the Ixus which screws into the tripod mount. Even more interesting is the
Kenko 8x32 monocular
which can screw into it. It looks like a very nice piece of kit. It was
reviewed
at
Steve's DigiCams
(mounted on a Canon S20), and he was impressed. The only real drawback I can think of is that I'm not quite sure how you focus, so I will have to look into that.
This looks like it would be great for taking action shots at track days, and a wide angle lens might be nice for the Haggis Hunt.
Wednesday, 24th January 2001. Link to this ramble.
I've added a
sound recording
of my car. If you're thinking of doing the Club's
quiz
then I'd suggest that you do it before listening to my car, otherwise you might find certain questions somewhat less challenging.
Wednesday, 17th January 2001. Link to this ramble.
My silk glove liners saw their first action of the winter. Susan's car reckoned that it was -2°C, and it was indeed bitterly cold. How dare Driven claim that
Sevens are impractical
...
Wednesday, 17th January 2001. Link to this ramble.
Added Steve Foster's report for the
December meetings
of the
L7C North Hants. & Berks. area
. Includes the Christmas
quiz
and Steve's pictures of Graham Ridgway's
R500
build.
Wednesday, 10th January 2001. Link to this ramble.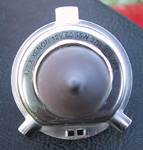 Lots of people complain about the inferior performance of Seven headlamps, but I've never really been able to complain about mine. The dipped beam isn't great, but the main beam is probably better than the other cars I've driven. Anyway, a bulb blew just before Christmas, so I though it would be a good opportunity to upgrade to those super-bright Xenon bulbs. Ah. That's why mine were so good - they were Xenon already. If you're interested in swapping, and you've got the same headlamps as me (they say WIPAC on the lens, and they're not a sealed unit), then you can get the bulbs at Halfords (£10 for their own brand, actually made by Philips, or £12 for Bosch, made by Osram). You're after a "472B 60/55W".
Saturday, 30th December 2000. Link to this ramble.
I've moved some stuff around. A few of the smaller articles from
my Seven's page
have been moved into the Ramblings. The
Clash of the Titans
piece has been promoted to its own page, with a few photos added.
Saturday, 30th December 2000. Link to this ramble.
I've long fancied the idea of having a graphics tablet for my computer, but I've been put off by the cost of what is, after all, just a replacement for the mouse you get for free. I noticed just before Christmas that Wacom now do a low-end tablet called the
Graphire
with an A6 drawing area, which costs less than £100. This seemed a little small at first, but it's probably about the size of the area that I move a mouse over. It also comes with a mouse as well as a stylus, but I wrote this off as a gimmick. A major point in its favour was that it uses USB, and comes with software for my iMac, and my work portable (Windows 2000).
After nearly two decades of mouse usage, it took a while to get used to a different pointing device, but the Graphire is fantastic. A mouse is fine for normal usage, but if you're doing any kind of creation or editing of graphics (I got mine mainly for photo editing) then I think you would love one of these. The tip is pressure sensitive, and graphics programs tend to make full use of that (I know Adobe PhotoDeluxe does). Highly recommended.
Saturday, 30th December 2000. Link to this ramble.
Who says you get more free time in the holidays? I finally got to play with the car yesterday, so I tweeked the pedals. Showing an admirable sense of timing, Steve popped round and helped me to move the clutch and brake pedal fairly smartish (middle setting now). This means that the clutch is back to its old position, so the knees on my jeans will be black again. Getting the throttle pedal position correct took ages, mainly because I forgot that it needs to be lower than the brake is at rest.
Moving the brake pedal has greatly improved the feel - it feels as if it's doing something as soon as I press the pedal now. (The piston that goes from the pedal to the master cylinder is now about half way out at rest, whereas it used to be nearly all the way out. I guess that extra travel is wasted. Hmm, better check that I'm not driving around with the brakes permanently on now.) I still haven't been able to try them out properly because of the bad weather we've been having (just getting out of our road without spinning was a challenge).
Yesterday I also managed to fit the ali gearknob my parents bought me for my birthday (supplied by James Whiting). It looks the business, and it's changed the character of the gearchange - the knob is now so close to the transmission tunnel that you can only just get your fingers around it. I think that's good, but I need to drive it a bit more to be sure.

Saturday, 30th December 2000. Link to this ramble.
I got my first opportunity to try out the new brakes this evening. The roads were dry for the first time in weeks, and I'd done about 250 miles of bedding in, so I gave the big brakes a bit of exercise. They're fab. I can now stop in a much shorter distance than before, with no fuss or drama. The car feels nice and stable (even in the wet) - it definitely doesn't feel like it's going to swap ends. I'll try it properly (including an emergency stop) when I've adjusted the pedals.
Wednesday, 13th December 2000. Link to this ramble.
The big brakes have changed the brake feel. It's now back to how I always remember Sevens being - some movement of the pedal which doesn't do a lot, then it gets firm and you can modulate the retardation with nothing really more than pressure changes. This is how I like it.
Unfortunately, this means that the brake pedal is no longer positioned for effective heal and toe, so I decided to adjust it. I finally got chance at about 9:30 on Sunday evening. It wasn't until I'd whipped off the pedal cover that I remembered I had adjusted the pedals when I fitted Steve's super-thin seat base, in order to stop my clutch-knee from constantly hitting the steering wheel. The brake pedal is at the end of its adjustment, and can't be brought closer to me without moving the whole pedal assembly onto the next hole. The brake and clutch must be moved at the same time. Ah. I put everything back together again, and will have to wait until I've got time to play around with adjusting the clutch.
Maybe the only way to avoid hitting the steering wheel with my knee will be to buy a couple of those lovely Tillet R500 seats. And a new tonneau.
Monday, 11th December 2000. Link to this ramble.
The Seven went in to
James Whiting
today to have his
big brake
kit fitted. This comprises an Alcon aluminium calliper for each of the front wheels, with
EBC Green Stuff
pads. This setup gives about 75% more pad area than the standard brakes, so I got James to fit new discs too (the old ones were quite worn). I stayed with the standard discs because James didn't think that cooling was a problem with the front brakes on a Seven, and the standard discs are
much
cheaper than those flashy grooved / drilled things (lighter, too).
Each wheel is now 1.35 kg lighter (the Alcon callipers are 1.4 kg each, compared with 2.75 kg for the originals). I'm not sure if it's the brakes or something else James tweeked, but the car definitely felt a bit more responsive on the way back to work. I'm now officially in the bedding-in period, so it will be another week or so before I can comment on the effectiveness of my new kit.
Wednesday, 6th December 2000. Link to this ramble.
---
This page is http://www.strangely.org/diary/200012/index.html. It was first published on Wednesday 7 March, 2001 and last updated on Tuesday 11 January, 2005.