L7C Hants (North) & Berks - August 2005
Lardy SV's, svelte bodies, Duratec (& carbon) vs K-Series. By Steve Foster.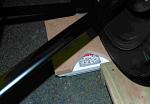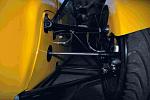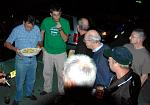 The first two photos are by Steve Foster, the others are by Peter Duce.
2nd Wednesday and Last Thursday meetings at the Shoulder Of Mutton.
Fun and games as Brent and Neil challenge each other and each others' 7's on Blatchat to find out who is the lardiest! We resolved it by using my corner weighting system in the Shoulder of Mutton car park. Neil's Rover-engined SV with aeroscreens vs Brent's Duratec-engined SV with full screen and weather gear but some trick weight saving bits, slugged it out for glory on not lardiest. We also weighed Ben's brand spanking CSR and Den's Roadsport. The results:
Brent's Duratec SV 7 weighed 702 kg including driver and fuel. Driver weighs 85 kg. Fuel 32 kg. Car alone 585kg. (Spec: full screen, sidescreens, S-type seats, Freestyle front suspension, some trick bits to reduce weight.)
Neil's K-series SV 7 696 kg including driver and fuel, Driver weighs 100 kg. Fuel ~7 kg. Car alone 589 kg. (Spec: aeroscreen, S-type seats, no front number plate.)
Ben's CSR 7 weighed 697 kg including driver and fuel. Driver weighs 66 kg. Fuel ~25 kg. Car alone 606 kg. (Spec: full screen and side screens, dry sump, Tillets.)
Den's K-series 7 weighed 630 kg including driver and fuel. Driver weighs 68 kg. Fuel ~15 kg. Car alone 547 kg. (Spec: aeroscreen, dry sump, Tillets, cage, crash protection bar.)
There was some arguing over fuel levels but the above is the most accurate we can get it to. Both Brent's and Den's cars were recently weighed on pro corner weighting gear and the weights came to within a whisker of those from my homemade system - which was nice.
A few of us made it over to the Surrey area meeting and watched their car park antics. Nice to see so many faces and cars that have been in LF and put Blatchat handles to a face / real name.
It's been a very good month for 7'ing weather-wise here in the sunny south. The last Thursday meeting was threatened by rain all that day but miraculously it cleared up to give a perfect dry evening.
Is it just me or is there summer madness on our roads? More congested than usual even at rush hour and many more summer madness accidents? Take care out there.
Nice to see many 7's out and about and many other interesting examples of the motor car that the fine weather brings out. Also great to see another new 7 in the car park. Rob W bought a 1600 XF as quickly as he could after a flying ride in my 7 -I love it when that happens! Let me know when you want its set up checked over / adjusted...
Sossige and Chips have been dished up at both meetings as planned and without AW to speed ahead and gob as much as possible before Brent gets there, Brent cleaned them up and has added volumes to his racing snake figure.
Area Christmas meal and quiz.
At the trusty Shoulder of Mutton. 14th December. Meeting at around 7.30 for 8.00 sit down.
The quiz will be provided by Darren alias Lazerbrain. I hope you have been working on this already Darren and made it extra easy for the befuddled 7'ers and wives As soon as I get the menu from the SoM I'll post it up and pop it into Novembers LF for non Blatchat readers. I'll be round to get an idea of numbers and menu choices at the forthcoming meetings. If you cannot attend a meeting please email me of your interest - this will need to be followed by hard cash or cheque in due course.
Well that's all for this month.
A.O. Steve Foster.
See also:
Second Wednesday meeting: BlatChat discussion; Steve's photos.
Last Thurday meeting: BlatChat discussion.
---
This page is http://www.strangely.org/7club/meetings/200508/index.html. It was first published on Tuesday 27 September, 2005 and last updated on Wednesday 28 September, 2005.