L7C Hants (North) & Berks - July 2005
Toyota visit, Brooklands, Le Sept... We've been busy! By Steve Foster.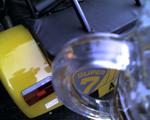 The top three photos are by Steve Foster; the bottom one is by Steve Motts.
2nd Weds and Last Thursday meetings at the Shoulder Of Mutton!
I unfortunately missed the 2nd Weds meeting due to a business trip but there was talk of a good supply of chips and sausages and phone calls to France and a song about Alice. I'm sure it made sense if you were there.
The F1 Toyota day was a big success. Thanks to Richard and Simon for organising it. I managed to blag 4 new Panasonic mobile phones from work to auction off.
Then there was the Brooklands British sports car show that the Lotus 7 club pretty much dominated in numbers (the power of Blatchat, thanks to Nigel Roberts for posting about it). 7's also dominated the test hill but let's save that story for later. There was one very nice Lotus 11 there too!
So what of the area members and what have they been up to? If you are not on the list below and would like to be, then you will have to do something more extraordinary or suffer greater mechanical misfortune I guess!
Jason is now up to 86K miles (most of them true bike speedo miles, not your exaggerated Caterham speedo miles!). He's done between 12-14K miles / year for 7 years! Still on the same de Dion tube! 2nd engine gearbox and front 3/4 chassis though Jason :-) Flu kept him away this last Thurs meeting.
Brent has damper woes. After yomping all round France (Le Sept) on wrongly assembled (factory, not Brent assembled I must add) rear dampers they finally gave up and spewed oil everywhere. It was all that wine and cheese he managed to fit in the cavernous SV boot of course that helped their demise. He also waxed lyrical about the performance of the Duratec. Mrs C has cool feet! Not sure about Brent's though.
Phil has barely used his car this year. Delayed by a strange fuel pressure problem and a supplier that let him down he is now up and running and MOT'ing tomorrow!
Phil also holds pub quote of the month 'Tony, I see you have a not quite so crappy new cycle wing on'. Oooh handbags at dawn!
Andy W has a new job it seems. He was dining with his boss last night hence missing the meeting. Brent was very close about what the new job might entail so we wait for Andy to spill the beans soon. Best guess is banking. He's also been spotted swaying in the background on an interview at a Russian coal mine. My, he gets about doesn't he!
Tony has been up the test hill uninsured at Brooklands! He holds 2nd place in the quote league table this month. While discussing the merits / de-merits of a RiF aeroscreen with; 'I don't want to look like a prat in a helmet!' No Tony, you just want to look like a bug eyed prat in those funny swimming goggle type things you wear :-)
Steve M did not make it up the Brooklands test hill this time. There was a nice video clip of him being questioned by the marshal as to whether he'd signed on or not. Answer 'er, umm, er'.
Andy_h's 7 is blowing oil (valve oil seals?) but running smoothly after I gave her a tune up. Also, following a track day where the instructor said his car was suffering from terminal understeer, I checked her over and found lots of toe-in and not enough rake! The two things a big VX hates!
Ray. He's now fully recovered after that trip home from Goodwood FoS in Kev's LR.
Kev… well, well. He's got a new Bev - the sly fox and he wants the Sitemanager to change his Blatchat handle to be in 22-point Times New Roman in purple! Daffyd will be jealous!
Barry did not risk the 7 last night. The humidity was high and TBH it did look like heavy rain until about 8.30pm when it miraculously cleared up completely.
Well, that's about all I can remember for this month.
Oh yes! The free chips and sausage supply was faultless at both meetings this month...
Steve Foster.
See also:
Second Wednesday meeting: BlatChat discussion; Steve's photos.
Last Thurday meeting: BlatChat discussion.
---
This page is http://www.strangely.org/7club/meetings/200507/index.html. It was first published on Sunday 4 September, 2005 and last updated on Tuesday 27 September, 2005.