L7C Hants (North) & Berks - May 2005
Non-Seven interlotusper. By Steve Foster.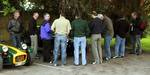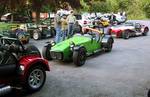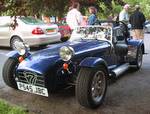 All photos are by Steve Foster.
By the time you read this we will have visited Xtrac in Thatcham and looked at all things cogs and racing. If they let me take pics I will send some in.
A tour will have been booked to the Hoggsback brewery where Tea and other local specialities are brewed and we may well be on for some Sevens on the water with a spot of sailing at Hawley lake providing I can get permission.
I must say there are a lot of excellent club events going on, both those out in LF and some more impromptu ones on Blatchat.
I will be doing the Toyota F1 day organised by Richard Dallaway.
Our area currently has 2 evening meetings. 2nd Wednesday at the Shoulder of Mutton and the Last Thursday meeting that's moved about a bit due to pub closures, re-openings, dissatisfaction and the lure of free sausages and chips at The Shoulder.
We are now considering moving the Last Thursday meeting to the Crown and Cushion as the car park is very large and smooth, plenty of tables to sit at outside and even has gas heaters for those chilly nights. Most members seem positive.
We will probably give it a try and see. We may switch back to The Shoulder for the winter though.
All this moving can be confusing for some who always knew The Phoenix as our home. I hope to settle down to a regular pattern of the 2nd Wednesday meet at The Shoulder of Mutton and the Last Thursday meeting at the Crown and Cushion for the summer half of the year (May to September) and The Shoulder of Mutton for the Winter (October to April).
Tony W also organises the AWESOME meeting (Ascot/Windsor Environs Seven Owners MEeting) at the Cricketers (can you find it Den?) in Warfield.
Member news
I did the L7C Cadwell trackday in early May and the weather was pretty kind. No heavy downpour at any rate (thumbs up on that one).
I had to wire up the exhaust at Cadwell to stop it cracking too badly. It's now bodge welded up by me. Kev may laugh but it is serviceable.
I must find out what was wrong with Roger Swift's VX. We tried swapping a few bits and pieces from mine but nothing helped the persistent high RPM misfire.
Den did a non L7C trackday at Goodwood.
Phil was still mapping but did have the Zetec beast on the road at this point.
Jason is off to Haggis and will be making GPS trackings of his trail tie in with his photos somehow... He is busy buzzing his engine (hopefully valves not hitting pistons too hard) - I can hear Phil screaming 'Jason, stop that on the engine I helped build!' all the way from Reading. We still have Jason's dry sump to fit at some point. He also twisted his battery cut-out key off in its housing last night. I lent him a spare. Caterham parts will be getting a next day order request to get it sorted before Haggis...
Steve.
See also:
Kev Sull's photos of the Xtrac tour.
---
This page is http://www.strangely.org/7club/meetings/200505/index.html. It was first published on Wednesday 31 August, 2005 and last updated on Sunday 4 September, 2005.