L7C Hants (North) & Berks - Summer 2004
Pub change, new cars, and Stoneleigh. By Steve Foster.
A very busy summer. Much blatting to be done and lots of motor sport events to attend or watch from the comfort of your Sofa.
Earlier in the summer several of us visited the Surrey meet. A pleasant evening to start with that ended in a downpour and tonneau-less Kev Sull got rather a wet bum on the drive back.
My eldest daughter has taken to attending a few meets, which is nice.
The Shoulder of Mutton pub (2nd Weds of each month) meeting is well established. Not quite the character of the Phoenix meeting (last Thurs of each month) but the food is good and come the winter, the in-pub environment is excellent.
To the news then. Ray has bought a 21. I spent quite a long time looking it over at the 2nd Weds meeting in July and sitting in it for quite a while. I like it! I must blag a ride in it soon. Ray is in the fortunate position to be able to use the 21 for commuting except for the worst months of the year (Focus duty) and has the 7 for relaxation! Perhaps I should see over my car usage / options and take a leaf of Ray's book?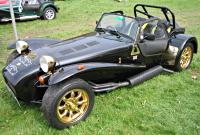 Nigel has done it! He's got throttle bodies! First that and then new cams. Judging by the acceleration bark past the Phoenix they are working very well! He made good use of the Wideband O2 mixture kit that I bought from "Bill on the hill", borrowing it to map the standard cams and then mapping again for hotter cams that soon followed.

Den has the big grin so much these days with his ex-race 7 that his face hurts! He was over at my place and we fitted my Richard In France aeroscreen to see how it worked height wise with his lowered floor. Too high! We calculated that 1 3/8" inches lower would do the trick... I also showed him what the rear light rubber caravan blocks weigh and fitted a set of lightweight ali ones (powder coat finish) for him. His rubber blocks were looking a bit jaded and they are only just over a year old!
At the previous meeting Mr Motts came in an Astra van. I know they are very fast Steve but... Anyway, this time the totally made over 7 was out and about. A nice green job with black cycles. Some have called it snot green but beauty is in the eye of the beholder. He's kept the Mango colour roll bar padding though. Sounded very nice too Steve on your return after noise testing. The XF still has it in the nostalgia sound stakes I think.
Speaking of Mango, Guy has nice bright coloured 7. He's so tired of telling people "it's not Yellow, it's Mango" he's had a T-shirt printed up to that effect.
Kev's wishing the Kev! Bev! Kev! Bev! ad would just go away. :-)
Mr Webber did not appear at the Phoenix, sober or otherwise.
Mr Duce has a new block, super duper head gasket and steel dowels. Hopefully the coolant will know its place now!
I felt especially sorry for Mr Ellison! He could not get his 7 out of the garage for the meeting as a gaggle of his wife's friends had blocked his garage access with no hope of releasing the 7. :-(
Several new faces visited us from Gosport. Nice to see you all and to hear the gentle, smooth whirring of a 'Blade as it pulled out of the car park. The whir soon became a frenzied angry buzz that propelled itself off at a nice rate of knots!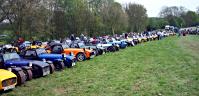 I've been busy. Up to Stoneleigh with Phil (hence the stiff neck shot in LF :-)), blatting about and corner weighting / setting up folks 7's for a small donation to NTL. £160 raised so far and counting. The reviews are good. If anyone local is interested let me know.
Well that's it for this month. No doubt BlatChat will keep us amused with its unique blend of wit, antagonism, news and questions until the next meeting. I also look forward to Low Flying dropping on the doormat during the 1st week of the month. Nice job ed!
News flash! LF did drop on the door mat on the 31st of July. Very fine it is too. Excellent job done to all those involved.
---
This page is http://www.strangely.org/7club/meetings/200407/index.html. It was first published on Tuesday 16 November, 2004 and last updated on Tuesday 16 November, 2004.